Shop Local this Holiday Season
This holiday season, take a moment to think about where you are shopping and spending your money. Choose three independently owned businesses you would miss most if they were gone, stop in, get to know them, and make a purchase. The 3/50 Project encourages supporting local brick and mortar stores by spending $50 each month in an independently owned business.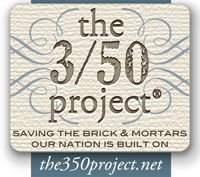 There are multiple ways you can support your local economy with your photographs and family memories:

Choose a local professional photographer for your family portraits.

When sending your holiday wishes, choose holiday cards that

benefit local charities

.

When digitizing VHS tapes and scanning old prints, hire a local company instead of packing up and sending your precious memories out of town.

Display your favorite photographs in a custom frame created by a local frame shop.

Search

Etsy

by location to find local handcrafted photo albums, picture frames and scrapbooking supplies.
You have the power this holiday season to make an impact with a local merchant. Pick 3. Spend $50. Save your local economy.